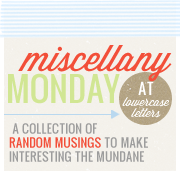 Connecting with
Carissa at Miscellany MONDAY
on Wednesday...... a little late, but since I have been the Queen of Random lately, maybe late will not matter. I love her site and each week read so many great Miscellaneous Posts..from great bloggers. If you don't stop by there, you are missing some great posts.
Yesterday was movie day with Mr. Jack and Parker to see Toy Story 3. It was a TRIP. In the first five minutes Jack told me he had pooped and then spilled all his goldfish. Fortunately his Pop was with us and took him out only to find it was a FALSE ALARM. That still did not solve the dropped goldfish, so Parker headed back to the concessions and got him another supply of JUNK. The key to a 2 year old and the movie is FOOD and DRINK! Trust me on this one. It was a great movie and with the exception of Jack insisting that he sit in Parker's lap, which I am sure got uncomfortable for Parker, it was a pretty smooth outing. We may try Shrek tomorrow.
This would be the CHEESY
SMILE!
PARKER HAS to GET THE AWARD FOR BEST BIG BROTHER
EVER!!!!
THIS IS JACK SAYING "LOOK AT ME...I AM AT THE MOVIES!
THIS is A TWEEN that I ADORE..JUST LOOKING AT HIM
SO GROWN UP LOOKING, MAKES ME SMILE. It WAS JUST YESTERDAY that he WAS JACK's AGE!
And for some RANDOM
A few goals for the week...
1.
GET BACK TO my REGULAR WALKING SCHEDULE
. Since the heat index is 103 today its not very appealing, but neither are the snug shorts I have on. (Don't worry, I never wear shorts in public)
2.
CATCH UP ON SOME BLOG READING
3.
Work on the Christmas Tree schedule
. You have no idea how hard that is in JUNE. In just a matter of weeks this blog will become a
HOLIDAY BLOG AGAIN
....and I already have some new ideas.
4.
Get my pictures organized on my
COMPUTER
. They are a MESS!
5.
READ some books I have wanted to read for months...
6.

HAVE LUNCH with at least FIVE different Friends that we have put off for months.
7.

WRITE a long letter to a friend I want to reconnect with!
8.

Start organizing Christmas ornaments and follow through on my resolution to BE MORE ORGANIZED early this year.
9.
PLAN and book a short trip for the entire family for August before school starts back.
10.
COUNT MY BLESSINGS DAILY
! NAME THEM ONE BY ONE...
Have a great week.....Check out my other blog...there are 3 special Fathers Day posts...later this week, I have another GIVEAWAY...